Federal Criminal Defense Lawyers
Wisconsin Criminal Defense Lawyers
BLOGS
Recordings Audio - Audiovisual - Music Downloads
Illegal Search
& Seizure
Arizona vs Gant
Prohibited Alcohol Concentration - PAC
Felony Penalties
After Conviction
Felony Conviction
Prohibits Gun Hunting
Felony Conviction
Allows Bow & Arrow
9 Felony Counts Sexual Assault of Child Dismissed
Meng Confesses To Murder & Jury Acquits
Wisconsin Court of Appeals Reverses Drunk Driving Sobriety Test Refusal Conviction
Illegal Search & Seizure In OWI Arrest
Intentional -v- Unintentional Homicide
--- - ---
Plea Bargains - Settlement Offers
Operating Under Influence of intoxicants
How to Choose a Criminal Defense Attorney
When to Hire a Criminal Defense Lawyer
Attorneys Nationwide - DUI & Criminal Defense
Books - DUI - Criminal Defense
Madison WI Best Criminal Defense Lawyers List
IID - 12th OWI as 9th OWI
ignition interlock devices
Current Wisconsin law mandates the installation of an ignition interlock device (IID) in all vehicles registered to or owned by a person who is convicted of a second or subsequent operating under the influence (Wisconsin OWI DUI law).
what is an IID - Ignition Interlock Device?
An ignition interlock device (often abbreviated as 'IID') is an instrument installed in a vehicle and connected to the ignition switch to prevent the vehicle from starting without proper activation. The objective of an ignition interlock device is to prevent a person from driving while they are under the influence of alcohol. In order to activate the IID, and start the vehicle, air must be blown into the IID, which then analyzes the air for any trace of alcohol. If the detectable level of alcohol in the air is equal to or lower than the limit set on the device, the device unlocks the ignition so that the vehicle may be started. If the detectable level of alcohol is above the set limit, the ingition remains locked.
ignition interlock devices fail
An ignition interlock device can malfunction, which may lead to a false positive reading indicating that the potential driver is already over the limit, or is not over the limit when, in fact, the potential driver has consumed enough alcohol to be above a .02 blood alcohol level.
tampering with ignition interlock devices
If a person who has been ordered to install an IID tampers with the IID, Wisconsin law provides that she or he may be sentenced to an additional six months to the IID.
For further information regarding Wisconsin laws on Ignition Interlock Devices, please refer to Wisconsin Law: IID - Ignition Interlock Device.
Police often point to other reasons that the ignition interlock devices fail, such as their accusation in a recent case involving a Verona man charged with a 12th OWI.
Verona Man Arrested & Charged With 12th OWI DUI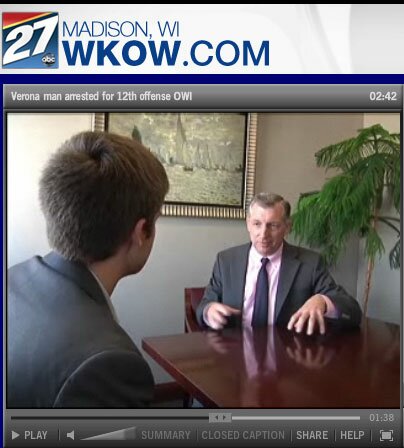 In Augsut 2010, a Verona man involved in a hit and run on Rimrock Road at the Beltline fled the scene, but returned and was arrested for operating a vehicle while under the influence (an OWI in Wisconsin), possessing a prohibited alcohol concentration level while driving (PAC) and hit and run.
Attorney Christopher T. Van Wagner pointed out how absurb an accusation it is to think that common solber citizens would even consider blowing into a person's ignition interlock device to assist a drunk person in starting their vehicle to drive away. When asked how drunk drivers could be stopped from driving on Wisconsin highways, Attorney Van Wagner said that drunk driving can only be deterred under current Wisconsin laws. As Van Wagner also pointed out, repeat offenders are still able to obtain access to a vehicle and drive when they are released from jail.
12th OWI Charged As 9th Drunk Driving Offense
The Verona man was arrested and charged with his 12th drunk driving offense, but the courts will likely treat this as his 9th OWI according to Attorney Christopher Van Wagner. Why? Because Reed was previously charged under old Wisconsin drunk driving laws predating the changes that occured in 1985; all of those prior offenses were wiped out.
Reed was also charged with possessing a prohibited alcohol concentration level, commonly referred to as PAC, and a hit-and-run.
Van Wagner said, "Reed faces 10 years of imprisonment."
Attorney Christopher T. Van Wagner
National legal analyst and attorney, Christopher Van Wagner, exclusively devotes his legal practice to helping people accused (or convicted) of criminal offenses or drunk driving. In practice since 1981, Christopher Van Wagner has tried nearly felony cases to verdict ranging from low level fraud cases to felony sexual assault and felony homicide cases in both Wisconsin State and U. S. Federal courts. [See: Attorney Christopher T. Van Wagner]
attorney tracey a. wood
Wisconsin's foremost authority on drunk driving laws and defenses, Attorney Tracey A. Wood, has handled thousands of Wisconsin cases involving charges for operating while under the influence, and related offenses including felony drunk driving, vehicular homicide while intoxicated, challenging prior drunk driving convictions, and appeals of prior drunk driving convictions and harsh sentencing.
The abbreviation 'IID' here is not to be confused with an independent and indentically distributed assumption often used in the central limit theory in statistics.