Federal Criminal Defense Lawyers
Wisconsin Criminal Defense Lawyers
BLOGS
Recordings Audio - Audiovisual - Music Downloads
Illegal Search
& Seizure
Arizona vs Gant
Prohibited Alcohol Concentration - PAC
Felony Penalties
After Conviction
Felony Conviction
Prohibits Gun Hunting
Felony Conviction
Allows Bow & Arrow
9 Felony Counts Sexual Assault of Child Dismissed
Meng Confesses To Murder & Jury Acquits
Wisconsin Court of Appeals Reverses Drunk Driving Sobriety Test Refusal Conviction
Illegal Search & Seizure In OWI Arrest
Intentional -v- Unintentional Homicide
--- - ---
Plea Bargains - Settlement Offers
Operating Under Influence of intoxicants
How to Choose a Criminal Defense Attorney
When to Hire a Criminal Defense Lawyer
Attorneys Nationwide - DUI & Criminal Defense
Books - DUI - Criminal Defense
Madison WI Best Criminal Defense Lawyers List
About Van Wagner & Wood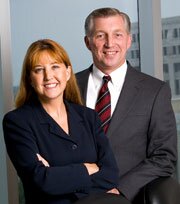 Christopher Van Wagner and Tracey Wood joined forces fourteen years ago, and through that combination they have been able to obtain greater and more frequent successes for their clients. By forming Van Wagner & Wood, they have been able to confer often on their separate cases, which benefits the clients of both attorneys, and to use each others personality, charm, perspective, strategies and backgrounds to mutually enhance their collective ability to obtain the best result possible for each client. Chris and Tracey are each aggressive, diligent and tenacious advocates in their own right, and yet each employs a style best suited to their personality and experience. While no criminal defense attorney can or should guarantee a particular outcome, with Van Wagner & Wood, you have the assurance of knowing that you were able to obtain the best result under the circumstances of your own individual case. And both attorneys represent people on all types of criminal and drunk driving charges.
In his twenty-plus years practicing law, Attorney Chris Van Wagner has handled hundreds of cases, many of which were felony trials ranging from from low-level drug possession offenses all the way up to kidnapping, homicide, felony murder, felony drug crimes, and domestic terrorism. Chris has represented people in rural and urban counties, not to mention the hardened criminal courtrooms of Chicago, Illinois and Trenton, New Jersey, winning cases he was expected to lose quickly, some of which involved jury acquittals that shocked the local community and earned him notable comments to the effect of calling him the O. J. Simpson dream team packed into one criminal defense attorney.
In a case that drew national headlines a few years ago, Attorney Tracey Wood won an outright acquittal when her client was cleared of any wrongdoing in a wide-ranging and emboldened conspiracy scheme alleging that her client stole missile launchers and military tanks from the Ft. McCoy military base in northern Wisconsin. Attorney Wood's client was acquitted while several defendants were sentenced to very long federal prison terms. She has overturned cases on appeal for illegal search and seizures, reversed sentences to prison for probation, and pleaded charges away. Through an unyielding dedication to the study of the science upon which drunk driving cases are won or lost, Tracey has become one of the most highly regarded drunk driving defense attorneys in the nation, and the first ever Wisconsin attorney to be named to the Board of Regents for the National College for DUI Defense.
In addition to the solid and successful trial history of the criminal defense attorneys at Van Wagner & Wood, Chris and Tracey have also argued and won appeals to the state and federal courts.
Many criminal defense lawyers never experience the thrill of an outright acquittal in their career, and yet both attorney Chris Van Wagner & attorney Tracey Wood have won several for their clients. Their record clearly reflects their hard work, their intelligent and professional approach to their cases, and their skill in developing a strategy that fits an individual clients case, while drawing upon their knowledge, experience and skill from past cases.
This record of success and professionalism also gives clients another important advantage: this winning record and highly professional reputation often cause prosecutors to make very favorable settlement offers (sometimes called plea bargains or plea agreements) to their clients, in order to avoid a trial or hearing at which Van Wagner & Wood might prevail. Lets face it, many people investigated, or charged or convicted of a criminal or drunk driving offense are not wholly innocent. Many people hire criminal lawyers not to fight to the bitter end, but rather to help them avoid or minimize the often unduly punitive consequences of what was really a one-time mistake, a poor judgment, or a rash step taken with little thought and too much emotion. Our clients cases often arise from difficult problems with alcohol, drugs, money woes or struggling domestic relationships. When you are seeking that sort of help, it helps to know that because of the past successes of the attorneys at Van Wagner & Wood, they may be able to obtain a very favorable outcome for you, even when everything about the situation seems bleak and hopeless, and the walls feel like they are closing in around you. They are not, but by placing your case in our hands, you can step back and leave the hard work to us. Although there are no guarantees, at least you will know that you have the good, solid, competent, experienced, well-regarded and highly respected help of Van Wagner & Wood.
The law firm of Van Wagner & Wood is AV-rated by the other lawyers in the region, which means, in short, that the local legal community considers them a top criminal defense law firm.
In surveys conducted over the past two years of all Wisconsin attorneys, both Attorney Christopher T. Van Wagner & Attorney Tracey A. Wood have been named to Wisconsin Super Lawyers (2006, 2007 & 2008). Attorney Tracey Wood was also named to the Top 25 Women in Law by Super Lawyers. In a local survey of all Dane County (Madison, Wisconsin and the surrounding area), attorneys, Van Wagner & Wood was the only law firm to have all partners repeatedly named to the Best Criminal Defense Lawyers of Madison, Wisconsin. Attorney Christopher T. Van Wagner has been three times awarded the Martin Hanson Advocate's Prize for numerous homicide acquittals.
Free Initial Consultation
If you are under investigation for a crime or drunk driving offense, if you have already been charged with a crime or drunk driving violation, or if you have already been convicted but believe your conviction or your sentence were wrong, please call ( locally or toll free) or e-mail the attorneys at Van Wagner & Wood right away. They will give you a brief but professional first-impression analysis of your case and your situation, which will allow you to take an important first step in defending the case against you.
Law Offices of Van Wagner & Wood
The law offices of Van Wagner & Wood are located at 1 North Pinckney Street in downtown Madison, Wisconsin in close proximity to the US District Court, Wisconsin Supreme Court, District IV, 5th Circuit Court, Madison Municipal Court, and in the same building as the US Court of Appeals.
Wisconsin Criminal Defense Attorneys Will Defend Wisconsin

The criminal defense attorneys at Van Wagner & Wood regularly appear in all Circuit Courts and Federal Courts throughout Wisconsin including Dane County Circuit Court in Madison, Wisconsin; Eau Claire County Circuit Court and U.S. Federal District Court in Eau Claire, Wisconsin; Marathon County Circuit Court in Wausau Wisconsin; Juneau County cases in Mauston, Wisconsin; Crawford County Circuit Court in Prairie du Chien, Wisconsin; Green County Circuit Court in Monroe, Wisconsin; Marquette County Circuit Court in Montello, Wisconsin; Monroe County in Spara, Wisconsin; Tomah, Wisconsin cases; Columbia Circuit Court in Portage, Wisconsin; Waukesha Circuit Court in Waukesha, Wisconsin; Rock County Circuit Court in Janesville, Wisconsin; La Crosse Circuit Court in LaCrosse, Wisconsin; and Brown County Circuit Court in Green Bay, Wisconsin. Please also refer to Wisconsin Circuit Courts for court addresses, telephone numbers and websites.
If your case is under the jurisdiction of any court in Wisconsin, please call () the attorneys at Van Wagner & Wood.
It Still Spells Success
Sometimes, Van Wagner & Wood sounds like another attorney name or law firm name, so here are some frequent misspellings.
Kris Kristopher Kristoffer Cris Cristopher VanWagner VanWanger Van Wanger Van Wangner Tracy Trasy Stacy Trace Would Woods Wagnr Wagnre Wod